Art Classes at The Contemporary Austin
My background in art
I grew up making and appreciating art. I visited and watched my paternal grandfather in Oklahoma who was a lithographer and prolific regional painter & sculptor. Growing up in Lubbock, several accomplished artists lived within walking distance of my home, including Glenna Goodacre, Hugh Gibbons, Clarence Kincaid, and Dick Cheatham, and some allowed neighborhood kids to watch and learn. These are some reasons I grew up fascinated by local artists. I took art classes into high school and college, and I drew often with pencils and pastels, painted when the desire approached me, usually in watercolors. I moved to Austin in the early '90s, those Slacker days, where many of my friends were artists.
Classes at Laguna Gloria / The Austin Contemporary
When my wife and I got married in 2002, she bought me as a wedding gift an easel, a set of oil paints and canvases in exchange for my promise to use them (I gave her a pair of cowboy boots for a promise that she dance with me). Shortly thereafter, I began taking painting classes at Laguna Gloria, now known as The Contemporary Austin. I learned a good deal about oil painting in the early classes I took at The Austin Contemporary Art School. Last year (2014) I decided to learn acrylic paints because I felt I could work faster using the quicker drying medium and produce more work. In the past year, I have enjoyed and learned from a couple of classes at The Contemporary Austin with instructor Phillip Wade: "Marvelous Acrylics" and "Painting Large."
I learned much from the classes I have taken at The Contemporary Austin, and I also produced some pretty cool art in those classes. Usually the instructor allows us to choose our subjects and style and then merely gives tips and instruction on how to best approach the work, a "learn while you do" approach, which I like.
"Painting Large" March 21 – March 22, 2015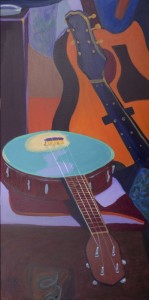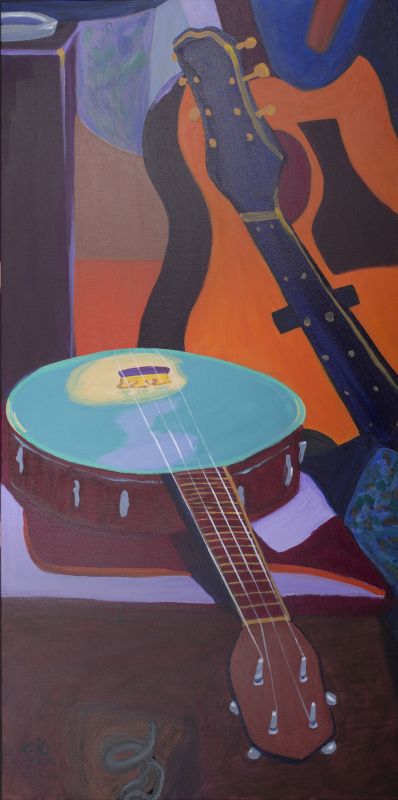 Instructor Phillip Wade explained that the "Painting Large" class was not so much about how to produce big paintings but more about learning to loosen one's technique by not obsessively working on minute details. A week before class, I purchased a 24"x48" canvas which the instructor suggested we sketch out before coming to class.
For the Painting Large class I chose to work on this image, from a photo my brother-in-law took at one of the many house concerts my wife and I have hosted in our home. The class was eight hours over one weekend. I mostly completed this painting during that class, just a few highlights suggested at the end of class were added at home later. I was pleased when class ended that instructor felt I could sell a lot of work in Austin. I'm pleased to say that is coming true.  "House Concert VII" was the featured painting in my April 2015 exhibit of sixteen paintings at Tornado Gallery in Lubbock, Texas.
"House Concert VII: Skoob & Epplers' Gear" 24×28, no frame.
"Marvelous Acrylics" July 14 – August 6, 2014
Landscapes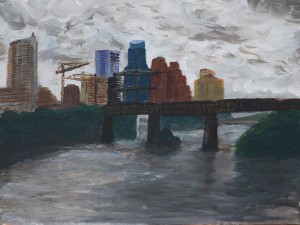 Monday 7/14 – In my first acrylics class, our exercise was to paint a greyscale black & white landscape. I found this interesting because Instructor Wade did not include black paint in our supply list. He wanted to teach us to blend simple paint colors to make the greyscale, and we used burnt sienna and aquamarine to make the black, which was new to me. It found it fun working with a medium that dries fast and is more forgiving than watercolors. Acrylics were exciting to me, and I had never done a completely grey-scale monochromatic painting before.
I had brought my own photo (taken 6/28/14) for my landscape image, and the instructor used my image as his example to show on his own canvas how we should start, which was helpful in starting my own. After instruction, we had about two hours to work with the techniques he showed us. The next day at home, I added some color washes over the buildings.
"RR Bridge on Ladybird Lake" 12×16, black frame with glass.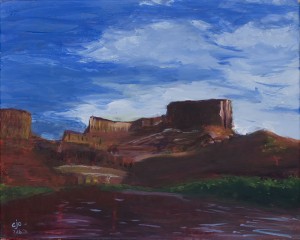 Wednesday, July 16 -Our second acrylics lesson was to do a landscape in color. We laid down a warm wash of burnt sienna on the canvas before starting, then sketched the darker tones with a violet base before adding color. I had always laid down base color but I'd usually use a color similar to what is going on top instead of a contrasting dark shade. While a basic concept I suppose, this was kind of a revelation to me; also, so was getting used to layering the acrylic colors, which go down differently from the oils.
I did "Dead Horse Point" in about 2 hours during that class, my first attempt to paint a full-color acrylic landscape. The image is from a photo which I took in July 2011 during a jet-boat tour of the Colorado River in southeast Utah, near Moab & Monument Valley. The big butte is called Dead Horse Point.
"Dead Horse Point, Colorado River SE Utah" 16×20, NOT FOR SALE.
Still Life & Pallette Knives
July 21 – Week two was two different still life projects. Monday was an exercise in color. We primed the canvas with all black to give the image depth; then the exercise was to mix proper colors using only primary colors & white. The instructor laid out several items of fruit and glassware and we could paint from any point of view and focus.
"Blue Pitcher & Fruit," 12×16 with black frame.
July 23 – Wednesday's lesson was to paint with palette knives for texture. While I did use a brush for some shading washes and a few details at the end, this painting "Guatemalan Pitcher & Pear" was done almost entirely with palette knives. The pitcher had a Guatemalan village scene painted on it which was trying to abstract using just knifes, not easy! The teacher said he liked my technique, and said I seem to have some natural talent.
"Guatemalan Pitcher & Pear," 12×16 with black frame.
Texture Gels & Abstracts
July 28 – Monday, I painted the Big Apple, an exercise in using acrylic gel to prime to canvas to give texture. We were to spread the gel on the canvas in a stucco-like manner and allow to dry before class. We then primed the canvas with a light sienna wash, creating shadows and dimension. The actual painting only took about an hour to do. I like the stucco effect the gel gives to the texture. I also got a lesson in transitional colors between shade & light.
"Big Apple" 12×16, no frame.
July 30 – Next class we were to attempt any kind of abstract painting. I really wanted to practice with textures using palette knives and also try laying down masking tape as stencils to create some sharp contrast lines. I didn't really have an image in mind for the end product but I worked on it until I liked what I had. I finished after class, late the next night. After it was done, it reminded me of the Davis Mountains in West Texas near Alpine so that is how named it. The Davis Mountains/Transpecos area of West Texas is one of my favorite places on earth.
"Davis Mountains, West Texas," 16×20, black frame.
Finishing Touches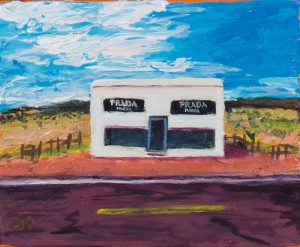 August 5 – The main lesson of this penultimate acrylics class was in using stencils and other supplemental materials to apply paint. The instructor then let us free to paint whatever we wanted. I decided to see if I could execute a small landscape entirely with palette knives, as I was growing fond of using them. This 8×10 is the first rendering of Prada Marfa I attempted. Later, one of the first paintings I sold was a 16×20 rendering of a similar scene later in the evening. I have since painted another Prada Marfa Sunset, which is also available for sale.
"Prada Marfa," 8×10 with black frame
August 6 – Our assignment for the final class was to bring in one of our earlier paintings for a lesson on finishing touches, making just the right highlights and creating focus features. So in order to have something to "finish up," in about 45 minutes on that afternoon before class I commenced to paint the initial form of these wildflowers based a photo I took on May 29, 2014 near the Barton Creek Zilker trailhead. In class, the instructor said it was mostly finished and all I needed to do was darken the background a bit to highlight the colors, which I did.
"Wildflowers on Barton Creek Trail," 8×10 with decorative gold frame.