We launched this website in April 2015 and had our first gallery show that month at Tornado Gallery in Lubbock Texas. Since commencing, we've sold more than a dozen painting and several prints. This month we have fourteen paintings on display for sale at Hyde Park Bar & Grill (south location in WestGate shopping center) in Austin Texas.
Busy, busy, busy! But I have continued to create more inventory and am still averaging a couple of new pieces a week. Since April, i've completed fifteen new paintings, sold one of those already, and two of which are in the Hyde Park exhibit.
Today, we've added ten new pieces of Pretty Cool Art which are now available for sale.
New Artwork for sale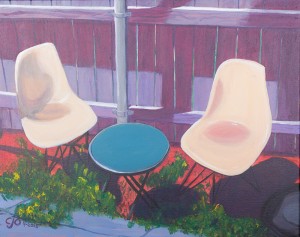 In April 2015, I was back in my hometown Lubbock Texas for my first gallery exhibit at Tornado Gallery. The main event was the First Friday Art Trail, when many friends, family and fans came to visit us at the gallery. The following day, my wife and i spent the morning with our long-time friends John & Maureen Chambers; John is an accomplished screenwriter with many TV credits to his name and also a singer/songwriter with two albums to-date, Maureen is a poet and songwriter, and their daughter is a promising ballerina who attends & boards at the Kirov Dance Academy. As we were enjoying the lovely west Texas Saturday morning, i searched for some painting ideas and liked the look of this backyard set where John & Maureen enjoy their morning coffee and evening beer.
"Wildflowers at Caprock Canyons State Park",
12×12 black frame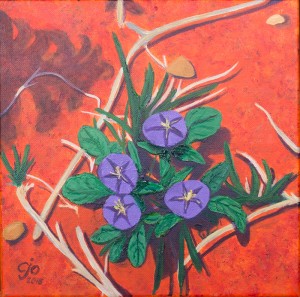 My first show at Tornado Gallery in Lubbock officially began  on Friday April 3, 2105 and I had to be in Lubbock that Wednesday to install the work. So with Thursday wide open, my wife and i made the drive to Caprock Canyons State Park to explore the hiking trails. That hike may have been one of the most physically taxing trails I have ever been on in a state or national park, but the temperature was mild, we had plenty of water and the the scenery was uncanny after an unusually wet spring in west Texas. I took many photos, including several of the beautiful wildflowers thriving along the dusty trail. I painted this based on one of those photos; i believe this flower is called a Purple Ground Cherry.

This painting is currently on display at Hyde Park Bar & Grill South 4521 WestGate Blvd. Austin TX. Purchase inquiries contact: Anne Ducote, 512-422-7643, anne.ducote@att.net
Austin is the Live Music Capital of the World. But we all like to have recorded music to keep those feelings alive. Digital downloads are easy to get and store but there is something to be said for the sound quality found in vinyl analog. LPs are resurging in popularity, and of course much music today features sampled beats from these analog recordings. Long-live the LP! I encourage you to buy more music.
Inspired by a song of west Texas fiddler and bandleader Doug Moreland "Wind Brings the Water (when there is no rain)" which describes the importance of windmills in West Texas.
This painting was inspired by the cover photo on the May 2015 edition of Texas Parks & Wildlife Magazine: "The 12 Most Beautiful Birds in Texas." Per the caption on the inside cover: "Rufous hummingbirds migrate through West Texas on their journeys  between Mexico and the northwestern U.S." (original photo credit: Jeff Parker). We keep a couple of hummingbird feeders in our backyard in south Austin and enjoy daily visits by these entertaining and beautiful birds.
"Backline",
20×20 no frame
For those not in the music business, the backline is the rhythm & sound equipment set up on stage for a band: bass guitar, drum set, PA, etc. This painting was  inspired by a photo by musician Parker Millsap of his band's backline.
"Naomi & Glass of Wine", 16×20 black frame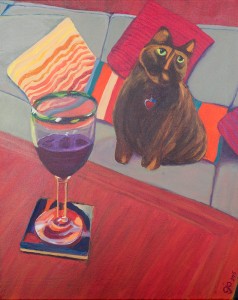 Naomi is our cat who we got from the Austin animal shelter. She was designated as a "desperate house cat" because she was older and had a bad rap sheet; they said she she would bite and does not get along well with other animals. Naomi pretty much chose us, and we got her with no charges because of her desperate status and we had to affirm that we did not have other pets. As soon as she got home, Naomi made it clear she was a barrel of laughs, and she only nibbles on you when she wants attention. I have dozens of photos of Naomi doing adorable things and showing off her personality. Here she is on our sofa contemplating my wife's glass of wine.
This painting is currently on display at Hyde Park Bar & Grill South 4521 WestGate Blvd. Austin TX. Purchase inquiries contact: Anne Ducote, 512-422-7643, anne.ducote@att.net
Large pink echinacea flowers, done mostly with palette knives; inspired by a photo taken by me at Butler Park on Ladybird Lake in downtown Austin Texas. I did a smaller version of this image, which was a gift to my sister and hangs in her home. This larger one is currently for sale.
This triptych features three holy women from the Americas, based on three of several panels featured above the altar at the Cathedral of Santa Fe New Mexico:

Blessed Katherine Drexel: US native of Philadelphia in the 19th century from a wealthy family, she founded the Blessed Sacrament Sisters, and applied her inheritance to educating poor black and native american children and pioneered schools in Santa Fe.
St. Rose of Lima: was the second native & 1st female saint of New World; born in Peru, St. Rose lived a penitent life at home tempered only by her love of music.
Blessed Kateri Tekakwitha:  the first Native American considered for sainthood; a Mohawk-Algonquin, died 1680, she converted to Jesuit Catholicism & lived pious but short life.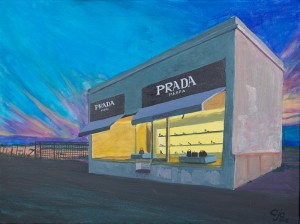 A great example of west Texas irony, Prada Marfa is actually an iconic art installation in the transpecos area of far-west Texas. Located on a desolate desert highway, it is truly an odd & shocking site. The interior is always lit, displaying individual Prada shoes & purses (NOTE: the shoes are singles without mates and the purses have the bottoms removed making them commercially worthless). Not an actual retail store, the door is never open and no one is ever inside. Unfortunately, this piece of art often suffers from graffiti and occasional fruitless break-ins.
Note: the very first painting i sold was another image of Prada Marfa, now in a private collection in Nashville TN.
"Chris Mosser with Beer", 16×20 black frame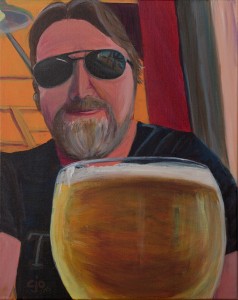 Chris Mosser is a friend of mine. He now is the morning deejay on Austin's top-rated KVET but i met him years ago when i was developing my other website virtualubbock.com about musicians from Lubbock and interviewed him with the heavy metal band Human, for whom he played electric bass. We are Facebook friends, and earlier this year Chris was on vacation with family and posted a selfie while he was taking a beer break. I liked the image and asked him if i could interpret it as a painting. He gave me the thumbs up, and this is the result. I really kinda feel like this is more of a painting of the beer than Chris. I tagged him him on FB, and within 16 hours i had several offers to buy it; i've made a tentative deal to sell it to the Mosser family, so this painting is pending sale.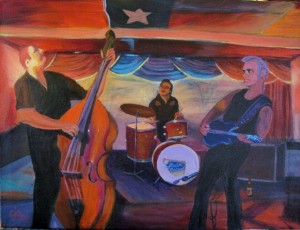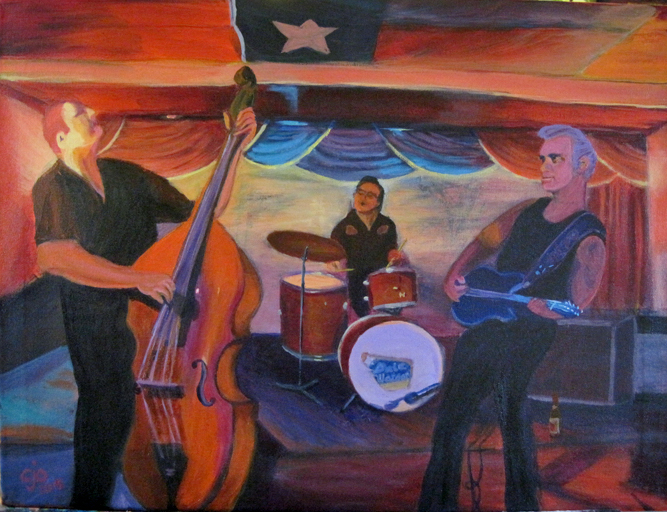 One of my favorite contemporary west Texas musicians is my friend and all-around drummer Mike Bernal with Dale Watson & His Lone Stars. Dale Watson's is hailed as a savior of traditional country music and his "ameripolitan sound" has become synonymous with Austin music. Any visitor to Austin must visit Ginny's Little Longhorn salon on a Sunday and experience Dale Watson's afternoon show and Chickenshit Bingo. This painting is inspired by a show at Gruene Hall, the oldest operating dance hall in Texas near Boerne south of Austin.
Now, back to the easel! More pretty cool art from Austin Texas coming soon…