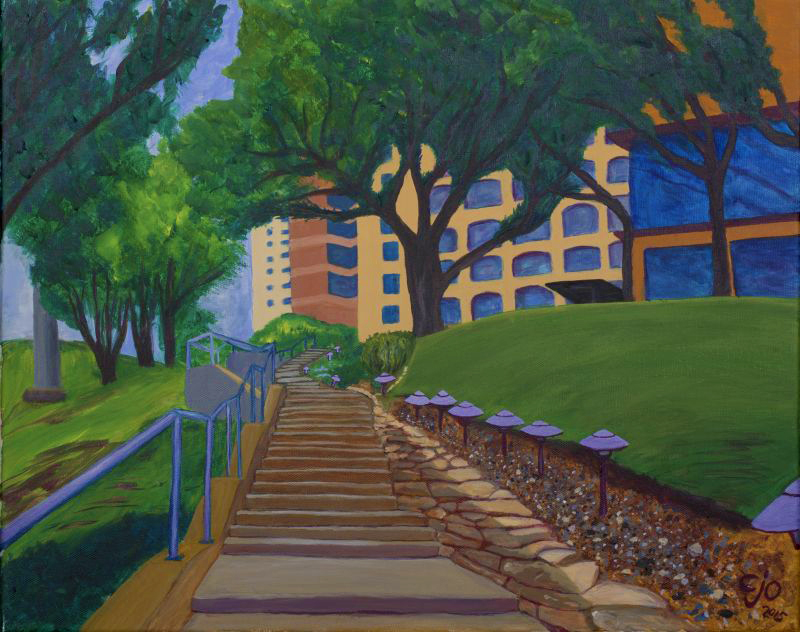 Public Displays of Pretty Cool Art by cjo
Coming Soon!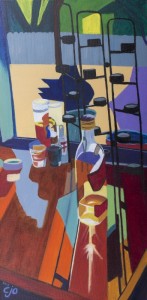 From July 25 to August 22, 2015 we are very pleased to be displaying my Pretty Cool Art at Hyde Park Bar & Grill, the south Austin location in West Gate Shopping Center. This exhibit will features acrylic paintings with Austin themes and several of our "cubish" beer, wine and cocktail paintings.
Join us July 27 at the Art Party celebrating Christopher & his work!
Christopher Oglesby Art Party
Monday, July 27, 5-7pm
Hyde Park Bar & Grill (South Austin location)
4521 West Gate Blvd Austin, TX 78745
512-899-2700
complimentary appetizer buffet, drinks at happy hour prices
This a great opportunity to see in person several of the paintings featured here at prettycoolart.com, and some all-new paintings never before seen will also be featured.
Later in 2015, I will have another show of artwork at the original Hyde Park Bar & Grill location on 4206 Duval Street SUNDAY, OCTOBER 25 – SUNDAY, DECEMBER 6, 2013. Art party announcement will come later this year.
Recent Show at Tornado Gallery – April 2015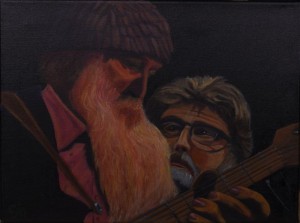 I had my first gallery exhibit earlier this year in April at Lubbock's Tornado Gallery, where I displayed 16 paintings with west Texas themes. The Tornado Gallery exhibit included paintings of musicians and artists featured in the book I authored about west Texas music and art "Fire in the Water, Earth in the Air." In addition we featured paintings of unique west Texas sights and landscapes.
I have been associated with Tornado Gallery since soon after they opened in 2007 when they hosted my one year anniversary book signing party and West Texas All-Stars Reunion Concert, featuring Lubbock music legends such Joe Ely, Jimmie Dale Gilmore, Jay Boy Adams, Bob Livingston of the Lost Gonzo Band, Larry Wellborn of the Crickets and many more local talents.
Tornado Gallery has been the cultural epicenter of Lubbock Texas for over eight years. Owned and operated by Larry Simmons, his wife Heidi, and Tony Greer in the building that once housed Greer Iron Works at the corner of 19th Street and Buddy Holly Avenue. Tony Greer is west Texas' premiere neon artist and Simmons was a long-time club and music venue operator. They combined their promotional skills, love of art and music, and created an art space in the Greer family ironworks building, adjacent entertainment space known now as Peggie's Garden, and also housing Sandstorm Glassworks. They helped found the First Friday Art Trail in Lubbock and host the downtown art and farmer's market.
Visit to Galleries in the Nation's Capital
I went on vacation with my wife last month to visit family in the Washington DC area, where my aunt is the archivist at a private gallery and my uncle works in the aerospace industry. While in the nation's capital, I always take advantage of the opportunity to enjoy the National Gallery, with my aunt as a consummate tour guide, the Hirschhorn and Freer Galleries, the Folger Shakespeare Library and the Library of Congress. I like to marvel at and take inspiration from the great American and European masters and wonder at the remarkable design and execution of exotic Asian, African and Native American art. I also made an educational visit to the Torpedo Factory Art Center in Alexandria where I met contemporary artists and discussed their art, studios and shops. I would like initiate a movement in Austin to create a similar non-for-profit co-op to house a similar group of studios & shops for Austin artists.
Hyde Park Bar & Grill Show
Once again, please join us on July 27th for a celebration of Pretty Cool Art by cjo at Hyde Park Bar & Grill in south Austin!
Thank you for your support! – cjo