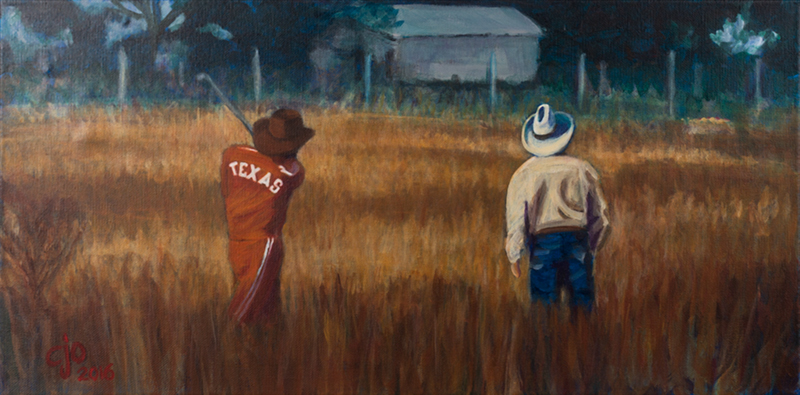 Modern Day Mythology
Memorable scenes from popular movies and television are modern equivalents to ancient oral mythology, defining many of our metaphors for common hopes, dreams, fears, and belief systems. So following all great art traditions, I believe that these iconic scenes are appropriate subjects for paintings. Also, cinematographers and directors compose  the scenes and lighting with great care, often with as much artistry as great masters of painting.
Pretty Cool Art and Painting Local
I will paint pretty much anything I think looks cool, but I usually focus on my mantra of "painting local",  so often when I choose to paint a scenes from a movie or TV, the subject has soe connection to Austin or Texas in general. Slacker and Dazed and Confused, directed by Austin Film Society founder Richard Linklater and set mostly in Austin, are popular subjects for me. Coen brothers' The Big Lebowski is also well represented. From Dusk til Dawn TV series by Robert Rodriguez, Sugarland Express, Honeysuckle Rose, Giant, and Mike Judge's "Office Space" all are subjects, as is the hokey 4 For Texas set in some psychedelic Hollywood Rat Pack version of Texas. But my eye is not only drawn to subjects set in Texas; strong women often strike my fancy as artistic subjects, and simply well constructed scenes.
Acrylic Paintings Inspired by "Dazed and Confused"

Dir. Richard Linklater (1993).
Acrylic Paintings Inspired by "Slacker"
Dir. Richard Linklater (1990)
[NOTE: These 14 Slacker paintings are available for sale only as a set; not for individual sale.]
Acrylic Paintings Inspired by "The Big Lebowski"

Dir. Joel Coen & Ethan Coen (1998)
Acrylic Painting Inspired by "Honeysuckle Rose"
Dir.

Jerry Schatzberg

(1980)
Acrylic Paintings Inspired by "4 For Texas"
Dir.

Robert Aldrich

(1963)
Acrylic Painting Inspired by "The Sugarland Express"
Dir.

Steven Spielberg

(1974)
Acrylic Painting Inspired by "From Dusk Till Dawn" TV Series
Developed by

Robert Rodriguez

(2015)
Acrylic Painting Inspired by "Giant"
Dir.

George Stevens

(1956)
Acrylic Painting Inspired by "The Outsiders"

Dir. Francis Coppola (1983)
Acrylic Painting Inspired by "Better Call Saul" TV Series

Developed by Vince Gilligan (2016)
Acrylic Painting Inspired by "Bell, Book and Candle"
Dir.

Richard Quine

(1958)
Acrylic Painting Inspired by "The Avengers"
Dir.

Joss Whedon

(2012)
Acrylic Painting Inspired by "The Fifth Element"
Dir.

Luc Besson

(1997)
Acrylic Painting Inspired by "Rapture-Palooza"
Dir.

Paul Middleditch

(2013)
Acrylic Painting Inspired by "Office Space"
Dir.

Mike Judge

(1999)