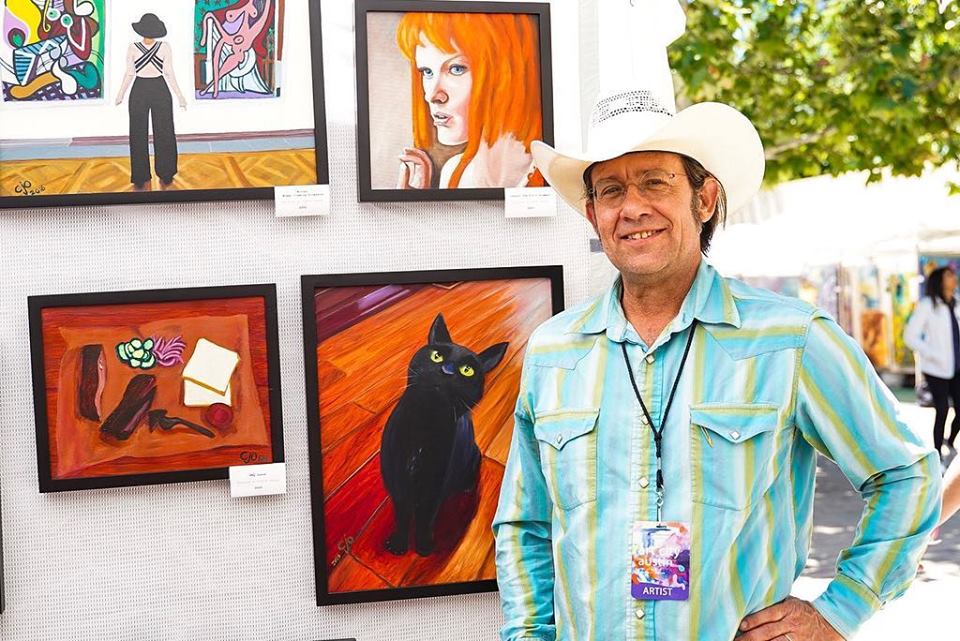 I work in Austin Texas USA, I mostly paint subjects related to Austin and Texas, and often show my work in and around Austin.So I am pleased to have been selected as Featured Artist for the 2019 Art City Austin Festival in Republic Square, downtown Austin.
This interview and article originally was published July 20, 2019 by Art Alliance Austin.
Beyond the Bio:
Featured Art City Austin artist Christopher J. Oglesby
Christopher J. Oglesby, Pretty Cool Art by cjo
Primary Medium: Painting on canvas, mostly acrylic paints but occasionally oils; pencil and charcoal drawing, also.
Tell us about your upcoming exhibition (if applicable):  I show at many art festivals and markets in Texas and the southwest, predominantly in central Texas where I live and work.
What are you working on now?
I am always working on a new painting, and I maintain a rather thick file of ideas for future subjects to paint. I usually spend about a week or so to complete an average size painting (for me usually 11×14" to 18×24"), and when I'm done I get another canvas on the easel ASAP.
What draws you to your medium?
I believe in "painting local" scenes from my neighborhood, community, and local popular culture; and I like to tell cool stories with paint, often from personal experience. My brand name is Pretty Cool Art (by cjo) www.prettycoolart.com . I don't focus on one particular style because I am always interested in trying something new; however, I tend to use bright abstract colors to make realistic perspective, light, shadow, and reflections.
How long have you been an artist and how has your practice changed over time?
My grandfather was a professional artist and lithographer who recognized my talent at a young age. While focusing on other professional studies in school, I have always created art for my own personal satisfaction. Five years ago in 2014, I retired from a career in law and public service enabling me to make creation of art my full-time business. I was very familiar with water color and oil painting, and have always been a competent drawer; however, I have taken several continuing education courses provided by Contemporary Austin Museum at Laguna Gloria particularly in acrylic painting, which I enjoy using now in many ways; I find that I now use acrylic paints sometimes likes oil, mixed with gel mediums for thick coats of color, and sometimes as watercolors, for light colorful washes.
In your opinion, what does the Austin arts community need as the city continues to grow?
This may be unrealistic in the Austin of today, but "affordable & community supported gallery space" is the answer. Something like the Torpedo Factory in Alexandria, VA is what I have in mind here.
ABOUT CHRISTOPHER J. OGLESBY
The author of a book about creativity, and producer of more than 100 successful music events, artist Christopher J. Oglesby now creates, promotes and sells his own Pretty Cool Art based in South Austin Texas USA.
Christopher Oglesby grew up in Lubbock Texas and received his Bachelor of Arts and Doctor of Jurisprudence degrees from Texas Tech University. He moved to Austin in 1992 where he pursued a career in law and government administration, including a stint in the Office of the Governor of Texas, and then more than twelve years managing a not-for-profit trust for people with disabilities. During his spare time, in May 2001, Oglesby created www.virtualubbock.com, a website dedicated to West Texas music, art and culture. Subsequently, in September 2006, the University of Texas Press published his book "Fire in the Water, Earth in the Air: Legends of West Texas Music" (UT Press, 2006), which received the 2007 Certificate of Merit for Research in Recorded Popular Music from the Association for Recorded Sound Collections. Oglesby was a featured author and speaker at the 2006 Texas Book Festival.
While promoting his book "Fire in the Water, Earth in the Air" Oglesby began producing music shows, featuring many of the artists in the book including Joe Ely, Jimmie Dale Gilmore, Jay Boy Adams, and Bob Livingston of the Lost Gonzo Band. Since then, Oglesby has produced more than 100 successful music events including South by Southwest Showcases, a weekly local music showcase in Austin, and many private house concerts.
After a lifetime of enjoying his artistic talent as a hobby, in 2014, Oglesby began his career full-time painting and selling his artworks and created his brand Pretty Cool Art by cjo. He'll paint anything he thinks looks cool, especially local entertainers and events, food and drinks, unique scenery, pets, friends, and iconic scenes from TV & Movies. Oglesby has completed several commissioned works in private collections and gladly accepts most commission requests.
Oglesby has artwork in many juried art festivals, galleries, exhibits, and fine dining restaurants across Texas and the Southwest. Oglesby's original artworks are in private collections in Seattle, Los Angeles, New York City, Washington DC, Denver, Colorado Springs, Nashville, Memphis, New Orleans, Lubbock, San Antonio, Dallas, and Austin.
To keep up with Oglesby's work:
www.prettycoolart.com
facebook.com/prettycoolartbycjo
twitter.com/prettycoolart
instagram.com/christopherj.oglesby