New Products – Pretty Cool Art Collectibles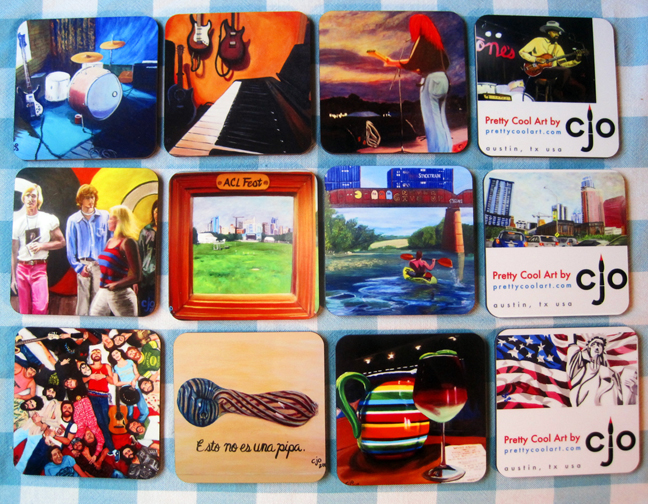 New Collectible Pretty Cool Art Products!
---
One should always use a coaster set to prevent coffee, beer, or drink rings on the furniture because my momma taught me it's the right thing to do.


Stay Cool y'all with

Pretty Cool Art by cjo.
---
"Backline"
"Stefan's Studio"
"Carolyn Wonderland in Zilker Park"
"Gary Clark Jr".
---
"Willie Nelson & Family 1978"
"South Austin Homage to René Magritte"
"Sangria Margarita Swirl"
"America"
---
"Be Cooler If You Did"


Coaster Set of 4 features:
"Outside the Emporium"
"ACL Fest Frame of Reference"
"Never Give Up"


"Bird on a Lightpole"
---
COMING SOON:
"Austin Hiking Trails" Set of 4
"Drink Local Beer" Set of 4
"Cool Kitty Cats" Set of 4, and MORE…

---
FEATURES Images of 13 acrylic paintings by cjo
inspired by Richard Linklater's classic film set in Austin Texas USA
BUY NOW! Price: $32
Pretty Cool Art on Your New Favorite Mug
Order your favorite image of

Pretty Cool Art by cjo on an extra-large coffee mug! Makes a great gift or collectible souvenir from Austin.
Pictured here is "Minerva Protects Peace From Mars."
Be sure to get a Coaster Set of 4 to prevent coffee rings because it's the right thing to do.
Price: $24.20. (Coaster not included.)