Coffee Artwork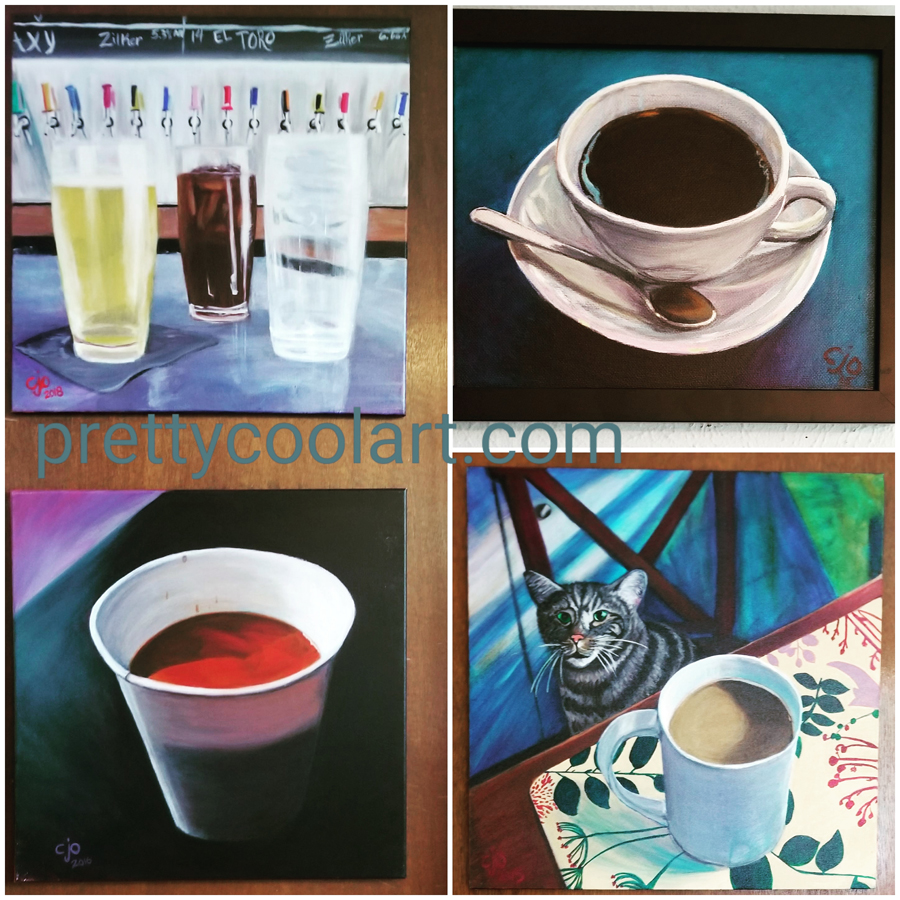 Coffee Artwork
Many personal favorites of my artworks include paintings of coffee. I like coffee. I like to drink coffee. I like the way coffee smells, how it tastes, and how it makes me feel when i drink coffee. I buy my coffee beans from local Austin coffee roasters, including (but not limited to) Casa Brasil, Little City, and Spokesman . I grind my own beans and use a Chemex to brew my own.
Pretty Cool Art – Coffee
I paint pretty things that I think are cool or look cool. Obviously, one common artwork subject of mine is coffee. I find it interesting how the coffee in each of these Pretty Cool Artworks appears different from the others, reflecting the many moods and styles of coffee drinkers.
My personal favorite coffee painting features what appears to be black coffee in a simple diner ceramic cup and saucer, and a spoon recently used to stir in some sugar, apparently.
This painting is truckstop coffee with creamer in a paper cup  inspired by my friend singer-songwriter Rod Picott who often posts updates during his extensive travels across America and Europe. The life of a traveling musician is often fueled by hot coffee in a paper cup.
Featured in this artwork is some iced coffee.  "One Water, One Coffee, One Beer": The perfect refreshing combination after the mile walk from my home & studio in South Austin to the nearest coffee house/pub, which happens to be Spokesman Coffee on East St Elmo. Spokesman roasts their own blends of coffee in house, and also provides an eclectic rotating selection of Austin's local craft beers. They have a nice shaded garden outside on the side. Spokesman also serves healthy and tasty breakfast and lunch fare.
And here is some homemade coffee with fresh cream. This painting is titled "Good Morning!" What a nice way to wake up. This fresh cup of comforting coffee and the face of a sweet kitty will happily greet you each morning for years after you hang this original painting in your home.