Art Festivals in Austin Area – Spring 2019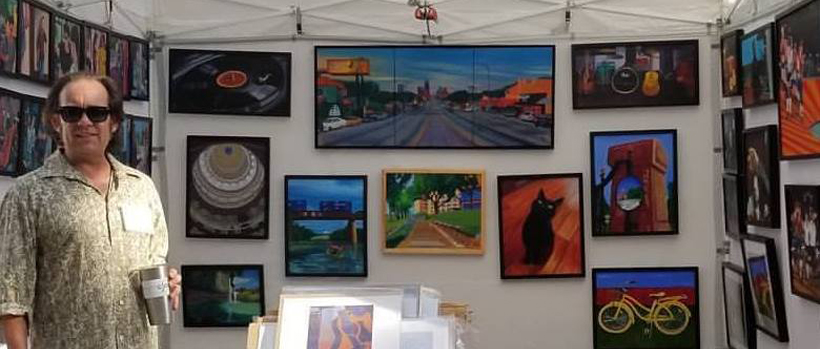 Gonna Be a Busy Spring Art Season for Pretty Cool Art!
Where to Find Pretty Cool Art in the Austin area:
Fri – Sat March 15-16, 2019; 1pm – 9pm, both days
SxSW Pop Up Event – "Still Whiskey Rocks Austin"
 440 E. St Elmo Rd | Still Austin Whiskey Co. @The Yard
During South by Southwest Festival, both days include a craft musicians market where Still Austin Whiskey Rocks goers can shop merchandise and trinkets; delicious customary themed cocktails named after the bands and hit songs by the bands; food truck Pairings on site serving tasty dishes all afternoon and into the evening, variety of items including sliders, specialty grilled cheese sandwiches and bruschetta. Plenty of parking on site.
Trouble in the Wind; Balto; Boogerins of Brazil; Shadow of Whales; The Slants; Transit Method; DJ Stefan Aronson; Jon Pattie; Bridget Boyle; Alex Winters; Clara Bellino; Vanessa Silberman and Austin Freeman; Various Blonde; Sick/Sea; Cat Jaguar; Reen and the Renegades; The Korkus; Color Candy
No Wristband or Badge Required!
Sat March 23, 2019;  6:00 pm -10:00 pm




Conception Art Show – Austin


979 Springdale Road | Friends and Allies Brewing Company


BUY TICKETS

 Conception Art Show – Austin 2019 is a "pop-up" event presenting the work of 35 local Austin artists. Featuring live music, complimentary appetizer hour, and a cash bar. Guests will have the opportunity to purchase something original for their home or workplace without incurring a gallery commission.

This immersive exhibit, active in 12 cities around the U.S. is the brainchild of New York City Business Journals, "2016 Woman of Influence," Rachel Wilkins. Conception Art, founded in 2011 in NYC, hosts one-night 'pop-up' art events in 12 cities around the U.S. while additionally providing guidance and support for artists and makers looking to sell or promote their work, both online and in person. "Bringing art to life in a way you can truly connect with is paramount to us here at Conception." – Conception Arts Co-founder, Rachel Wilkins explains.

"There are few other opportunities like this. The environment is unique and the art is wonderful" – Dallas Style & Design Magazine (September 2017 Issue)
Sunday April 7 2019; 2pm – 5pm




Austin Musicians Art Market




1509 S. Lamar Blvd, Austin, TX 78704

|

One2One Bar

This cool South Austin event happens the first Sunday of every month and features original art and other homemade wares made by some of Austin's coolest musicians. enjoy the Bloody Mary bar, too!
Sat & Sun April 13-14, 10am-6pm both days
Art City Austin 2019
Republic Square, Austin TX USA
Art City Austin Festival – COME TOGETHER and celebrate the convergence of Austin's diverse art scene. Shop and browse at Art City Austin's Convergence Fair – an art market of up to 80 visual artists, designers, installation artists, artisans and makers showcasing and selling their wares. Enjoy a weekend in the park featuring the art of local musicians, performance artists, live food demonstrations by local chefs, food trucks, boozy bevies, kid activities and interactive experiences.
Sat & Sun April 27 – 28
Wimberley Arts Festival
The Waters Point Retreat, Wimberley TX USA
About 100 booths nestled among the pecan trees and cabins; food truck aromas will beckon you to relax and have a picnic overlooking the river. A beer and wine booth will help you enjoy your picnic even more. Live music plays continuously. Dogs on leashes are permitted and Arts Fest is proud to include WAG, a Wimberley animal adoption group, with their dogs as one of our exhibitors. A large variety of media. All exhibiting artists are selected by invitation, all  are experienced and talented. It's a great way to enjoy the Texas Hill Country and Wimberley, "a little bit of heaven."
2019 Wimberley Arts Fest Music Schedule
Saturday
11:00-12:00 Young & Rusty
12:15-1:15 Gypsy Moon 
1:30-2:30 Hardin/Burns
2:45-3:45 3 Hands High
4:00-5:00 Ike Eichenberg 
Sunday
11:00-12:00 Hot Texas Swing Band
12:15-1:15 Gerry Burns-White Shoes Music
1:30-2:30 The Ash Family 
2:45-3:45 Jazz Messenger Boys 
4:00-5:00 Erik Hokkanen & Friends